Greensboro Wedding Photographer
Happy New Year! If you're one of those lucky guys or girls who was engaged last night at 12:01, you are probably celebrating a lot more than the average person is today! All the excitement may have you a bit overwhelmed waking up this morning realizing you now have to find your Greensboro wedding photographer and a whole other host of people to make your wedding day complete. If the idea of planning a wedding fills you with excitement rather than stress, take a look at Love Of Parties to see how you could start your own wedding rentals business. Anyway, we are here to break down the top tips to finding and choosing your wedding photographer because choosing a wedding photographer in Greensboro is much different to looking for good wedding photographers Dayton or in Durham! Every photographer in every city has different styles. If you think every photographer in every city has a different style, what about a different country! Have you ever considered what style a wedding photographer in Germany may possess? Look no further than Matthieu Lenz; you can take a look at his photography on his website! For now, though, we'll focus on Greensboro.
Your first question may be,
How do I find Greensboro Wedding Photographers?
Is there a collection of the BEST Greensboro wedding photographers? And if so, where do I find them?
First, I suggest finding a wedding photographer through a trusted source. Whether that be a friend or relative, a wedding blog you've been following, or even a simple google search. If a photographer is established and has been in business for a while, their name will populate several links. You should see their work featured on wedding blogs or magazines. But most importantly, you should read their reviews. Read their good reviews and their bad.
I have a friend who is a lawyer in New England and he recently told me that anyone who is in business for a good amount of time will have a bad review somewhere. Not because they aren't good, or don't have stellar customer service, but because it's just the rule of averages. If you've been in business long enough, you'll eventually work for someone who doesn't love you. So take that into consideration if the wedding photographer you are researching has a couple of bad reviews. If they have a laundry list of bad reviews? Run.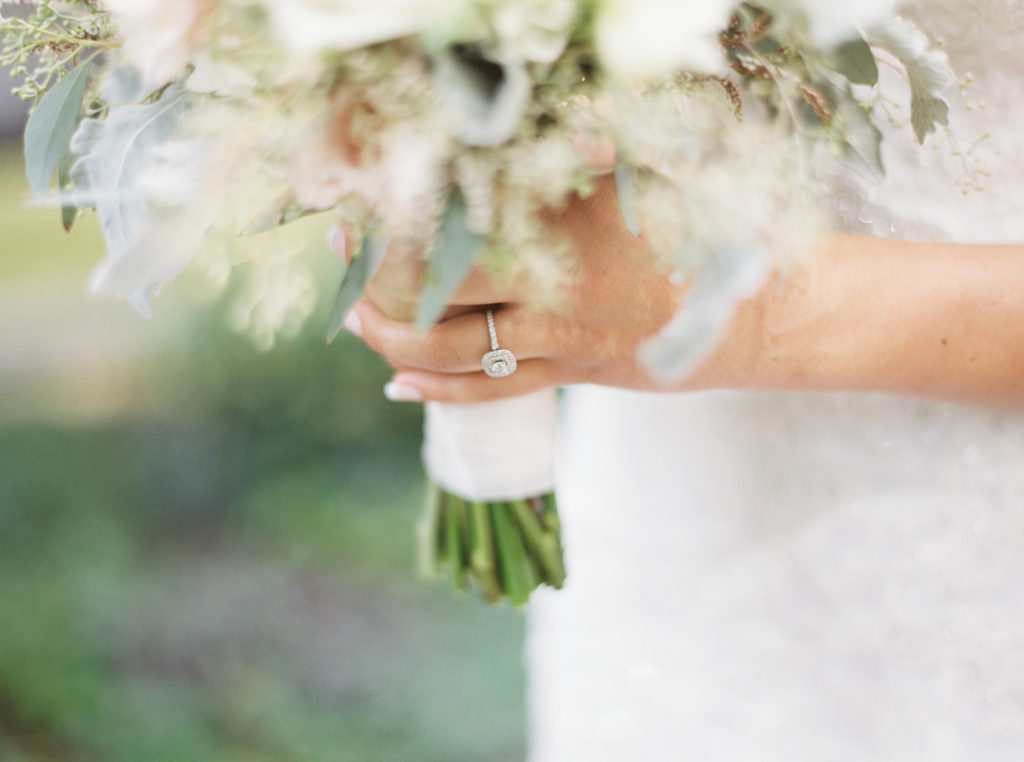 Greensboro Wedding Photography Prices
You may also be wondering how much Greensboro wedding photographers charge. Giving a specific number is difficult because there are so many variables that play a part in wedding photography prices. The thing that will most affect pricing is the length of time you want the photographer at your wedding. If you would like an engagement session or a bridal session affects the price, etc. But one thing I didn't realize when I was looking for wedding photographers years ago, is that no matter what the price is you're quoted, dividing that number by the number of hours you book the photographer, doesn't equal their hourly rate. I think that throws people off quite a bit when they look at it that way. After considering the hours of editing behind the scenes, the hours of planning and communicating via face-to-face, phone, and email, it starts to make sense.
Another factor is creation of galleries, the weekend spent traveling to the venue and back, and any expenses incurred along the way (such as gas, food, childcare if applicable, etc). These are all the same things you factor into your own personal budget for your life's work. Photographers have a slight disadvantage that the bulk of their workload isn't spread out over a bi-weekly income like most 9-5, or 12-hour jobs.
Greensboro Wedding Photography
Found a wedding photographer that fits your budget and has a style you like but you're still not sure this is "the one"? Ask to see an entire wedding gallery. That way you can see what an entire collection looks like and you'll know what you can expect. Most photographers have galleries at the ready to share. I keep a gallery of a rainy day wedding, a wedding of a dimly-lit church (that's important to see if you're planning a church wedding that doesn't allow flash photography), and I also share a beautiful sunlight-filled wedding. You need to see how a photographer handles each situation. Once you have all that info, go for it! Meet them in person. You'll learn a LOT about how you'll work together by a simple face-to-face meeting. Also worth considering how the hunt for a wedding dj will go! A lot of the steps are transferable. Headliner.io provide a really great service for finding djs in the UK.
Congratulations again on your engagement! I hope you'll reach out to us and let us know how this article helped (or didn't! We love feedback on how to improve!). As always, we would be honored to be considered for your wedding.
Happy Wedding Planning!